Covid Cocktails 8
This is a heavily delayed in blogging, back in August 2021 I did my 8th round of cocktails, and hit my big goal: 100 different cocktails in a year. I had to fly out soon, so this was a hyper-compressed rush of cocktails.
Covid cocktails 8.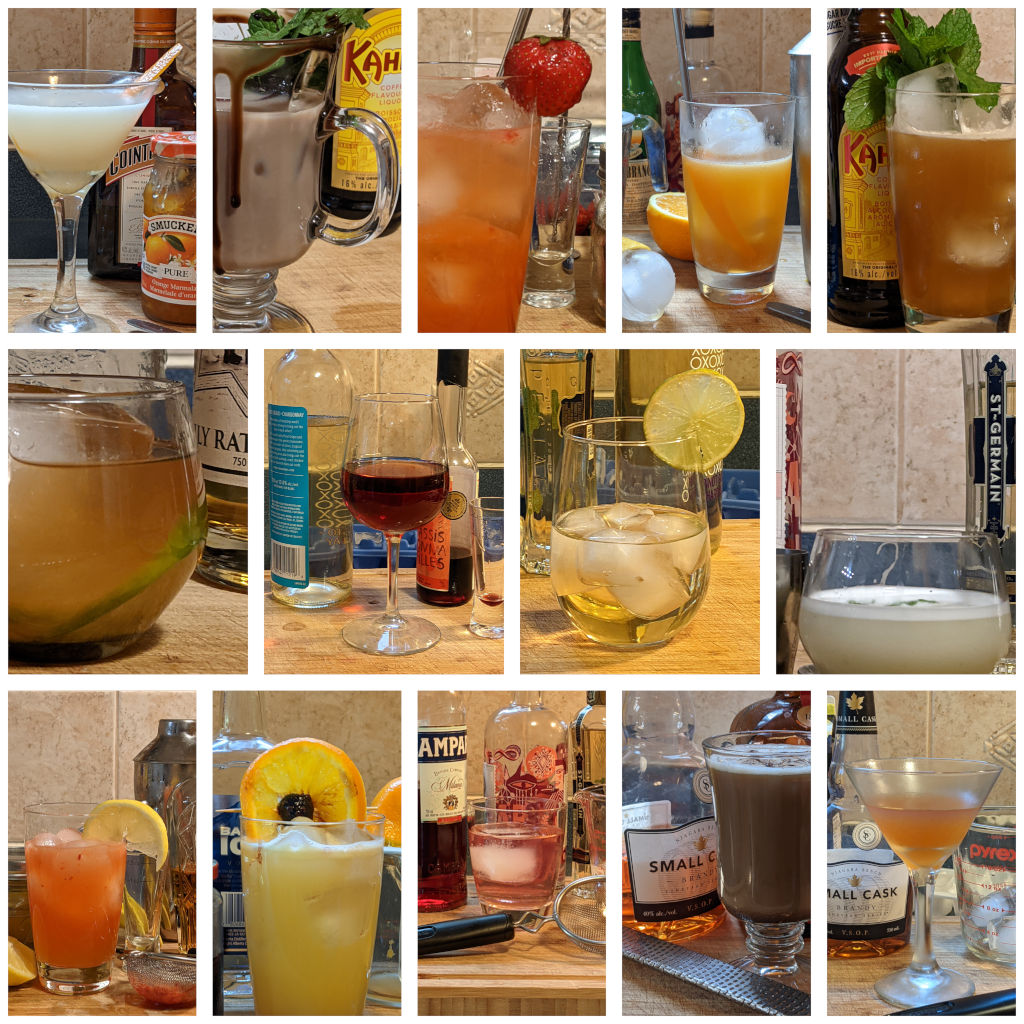 Covid Cocktails Final Bout
Day 1
New ingredient! St Germain elderflower liqueur.
the Comte de Sureau:
1.5oz gin
1 oz St Germain
0.25 oz Campari
Mix with ice, pour to a rocks glass with big ice.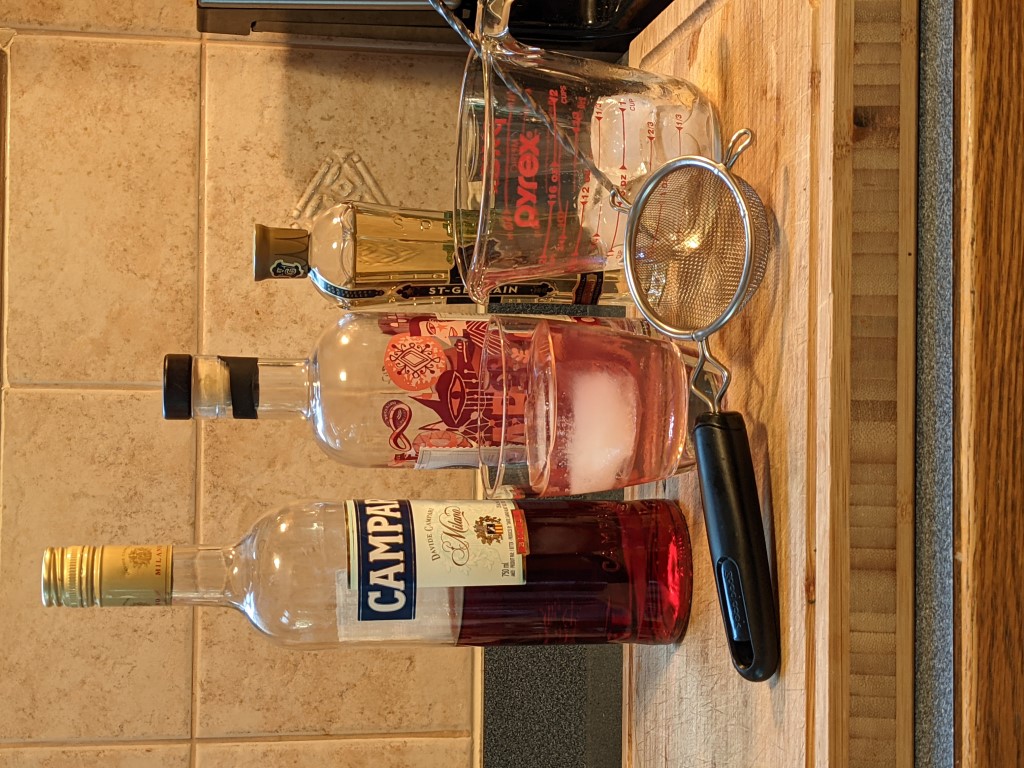 I liked it. The St Germain brings some sweetness and a nice floral note... but the the Collective Arts gin has such a floral flavor already I feel like it got lost a bit. I like Campari, but its effect here is subtle. In the end it mostly tasted like a sweetened and lengthened floral gin with a bitter undertone.
It's nice. Not really exciting, but nice.
I'm looking forward to playing more with it the St Germain.
Day 2
More St Germain! This time we make a Courtside - a nice long summer drink.
In a shaker, muddle
1 hulled strawberry
3 raspberries
add
1.5 oz vodka
1.5 oz apple juice
0.5 oz elderflower liqueur
0.5 oz lime juice
0.33 oz sugar syrup
Shake with ice, then double-strain to a Collins glass full of ice
Then, top with club soda.
Garnish with berries.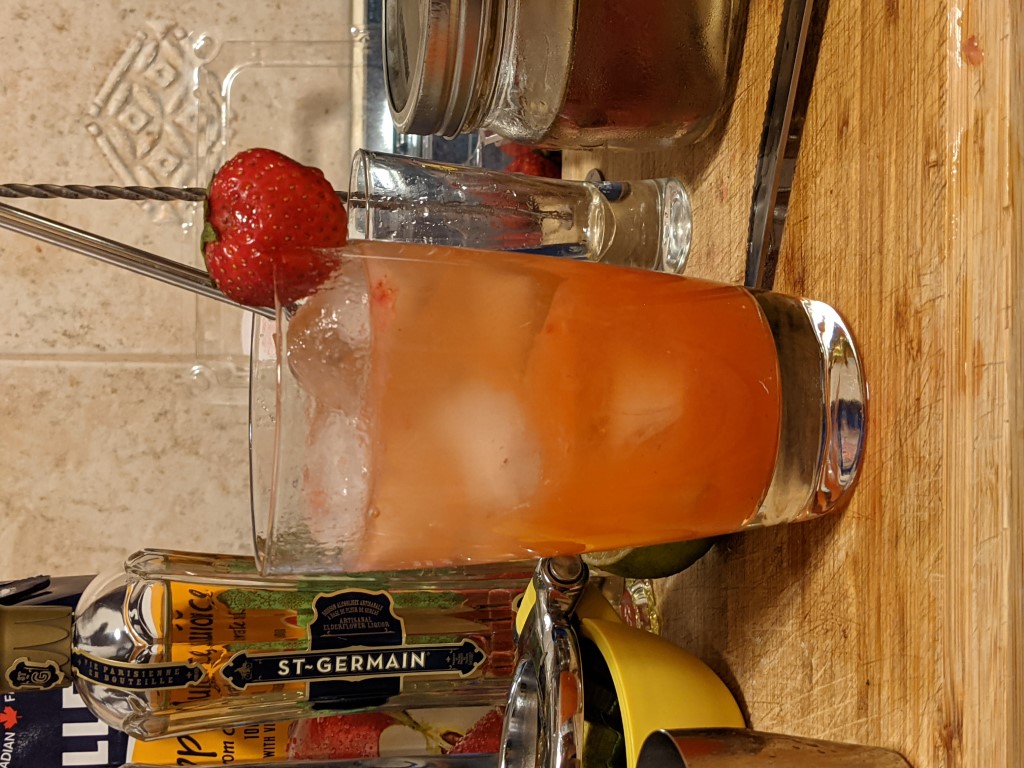 This is so incredibly easy to drink. It's a tangy berry soda. I've got to work things out with the shaker or my huge Collins glasses though - I had it with a straw so I had the strongest sip first, but after it was too dilute.
Also, double-straining berry sludge sucks.
Day 3
I subject my wife to one of the stranger drinks, "Follow That Black Rabbit".
In a shaker:
0.75 oz OJ
0.75 oz maple syrup
1.75 oz gin
0.75 oz Fernet Branca
0.5 oz lemon
Shake with ice, pour to a highball with ice, garnish w orange twist.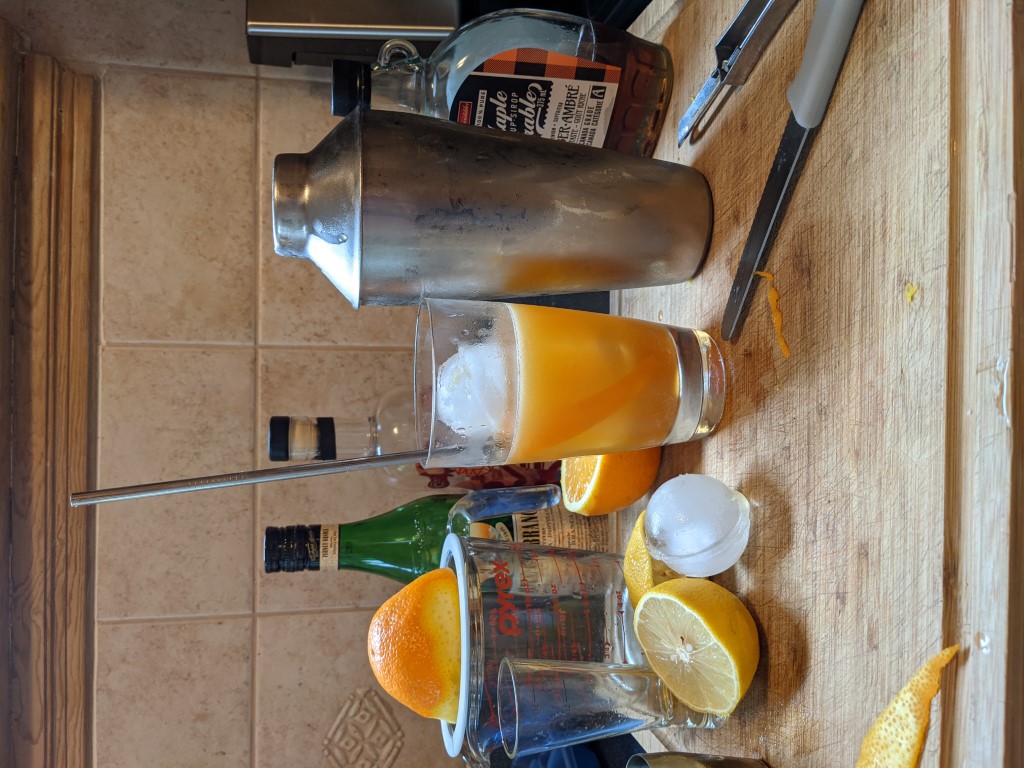 Oh wow this is a complex drink. The Fernet and orange and maple attack your mouth in three different places at once. At the same time, it's sweet enough to be kinda approachable.
"So, honey, do you like it?"

"It's weird."

"Good weird or bad weird?"

"Uh... I don't know."
Source: The Educated Barfly
https://theeducatedbarfly.com/follow-that-black-rabbit/
Also, my pic above was bad because I was so excited to try this strange drink that I took a few sips before taking the photo and then handing it off to my wife.
Day 4
We pull in a slightly unorthodox ingredient for the Breakfast Martini.
In a shaker, add:
1 heaping tsp orange marmalade
1.66 oz gin
0.5 oz triple sec
0.5 oz lemon juice
Shake, double-strain to chilled cocktail glass. Garnish with orange twist.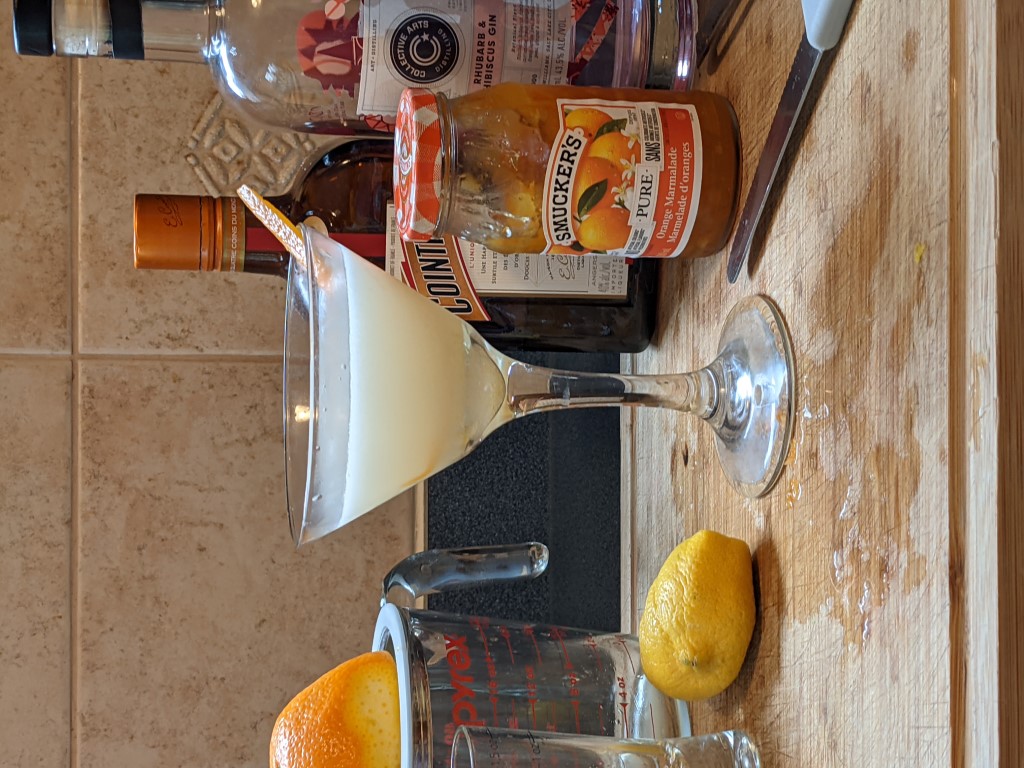 Orange. Boozey orange.
With a sour aftertaste. The Cointreau and marmalade make it pleasantly sweet and with a strong orange flavor halfway between fruit juice and syrupy orange freezies, with a botanical undercurrent. Then the lemon hits.
Easy and straightforward sweet.
Day 5
A little bit of wine crime. This one's barely a cocktail, the Kir.
Just mix in glass
5 oz white wine (I'm using Pinot Grigio + Chardonnay)
0.25 oz creme de cassis...
But my cassis has a pretty weak flavor so I bumped it up to 0.66 oz.
Okay, it turned a dry-ish white wine into something a bit more dessert-y. The cassis adds a little sugar, body and fruitiness.
Not much to it but that's what you'd expect from a simple 2-ingredient drink.
Day 6
For those keeping score, this is my 100th distinct cocktail since I started mixing a year ago!
How To Drink vids got me into this, I decided it would be good to mix one of the first h2d originals: the Gin Whisper for the Centennial.
In a shaker, muddle
Then add
0.25 oz simple syrup
0.25 oz St Germain
2 oz gin
one egg white
(I like to steep the mint in the simple syrup for a minute while I gather ingredients)
Dry shake, then shake with ice.
Double strain to glass, garnish w mint.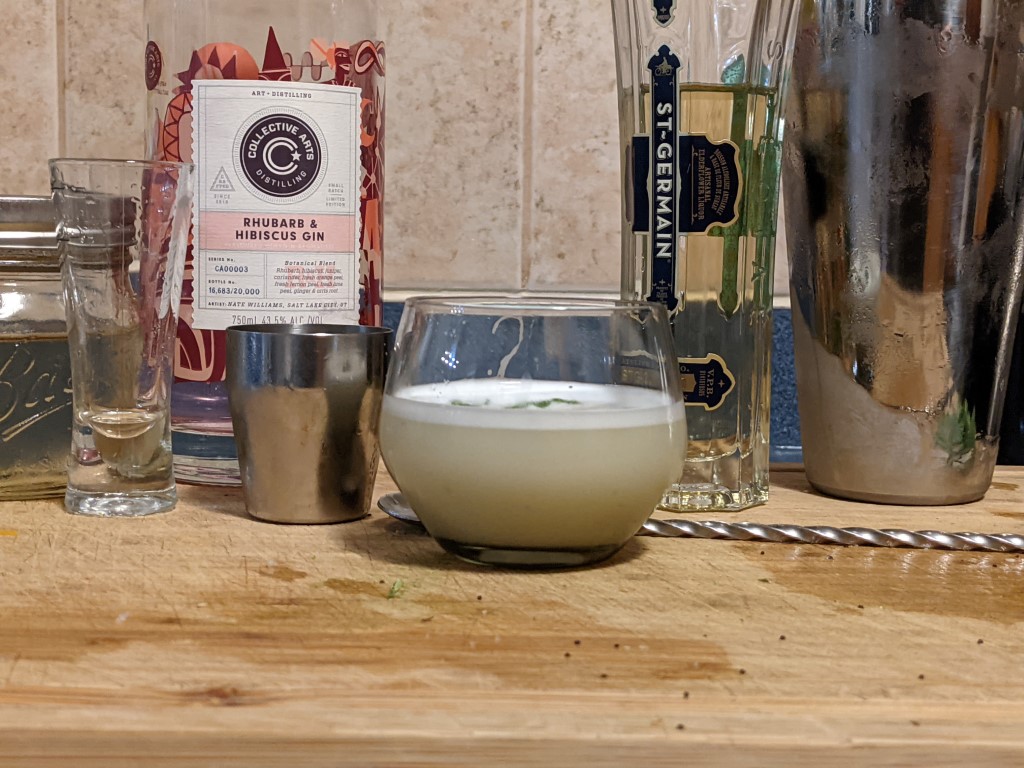 I liked this. Creamy, sweet, and intricate. A bit of a bitter undercurrent from its booziness and the botanicals, but it starts with the mint and elderflower.
I'm surprised I could get a decent egg foam without acid from citrus fruit - afaik the acid causes the egg to foam.
That said, I hate shaken mint. The ice pulverizes it so a few flakes always come through the strainer.
Relevant How to Drink Vid
Day 7
New ingredient! I broke the bank and bought some artisanal rum from Halifax (!). Compass Distillers' Daily Ration rum. I'm combining that with How To Drink's Rum Old Fashioned recipe.
In a rocks glass:
3 thin (1/8" thick or less) slices of lime
2 bar-spoons demerara syrup
2 dashes of angostura bitters
Then muddle, and add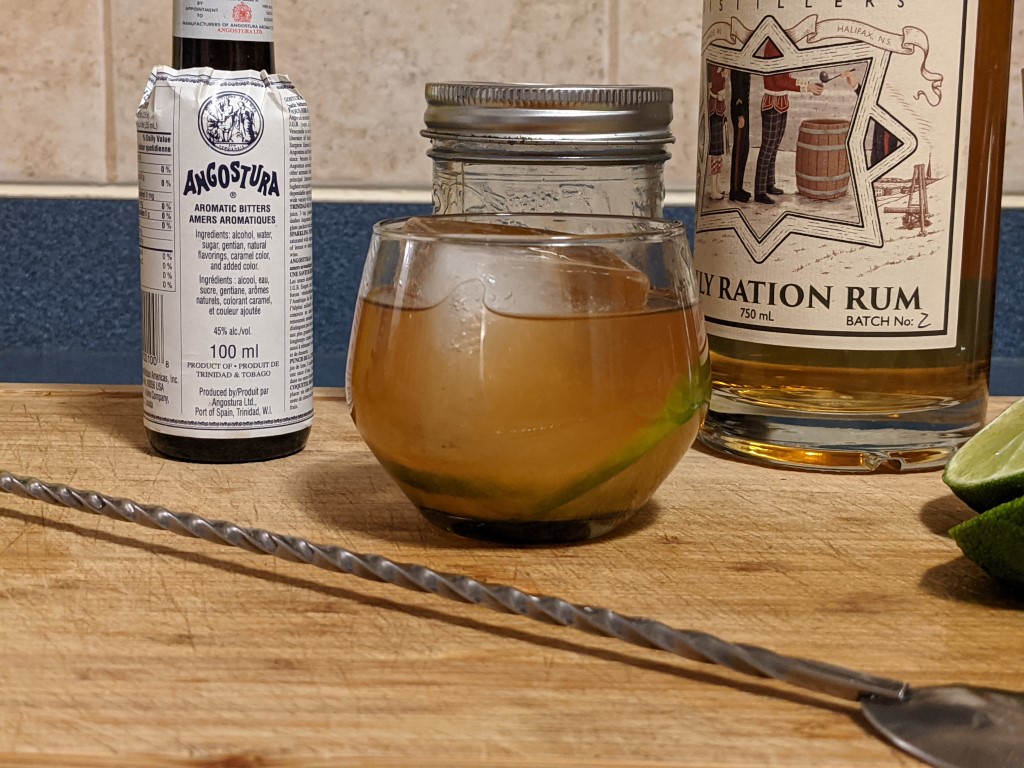 It's good. Lime forward with a rum funk and the angostura spice undercurrent. Refreshing despite its booziness. It straddles the line between a daiquiri and an old fashioned. A good drink for when you want something stiff but also it's summer.
Relevant How To Drink vid
Day 8, Drink 1
I'm flying out Monday so I'm rushing out the last few cocktails to finish out the set.
So, day 8, drink 1 of 2:
The East India No. 3
In mixing glass w ice:
1.66oz brandy
0.33oz triple sec
0.5oz pineapple juice
1 barspoon simple syrup
Mix, strain to glass.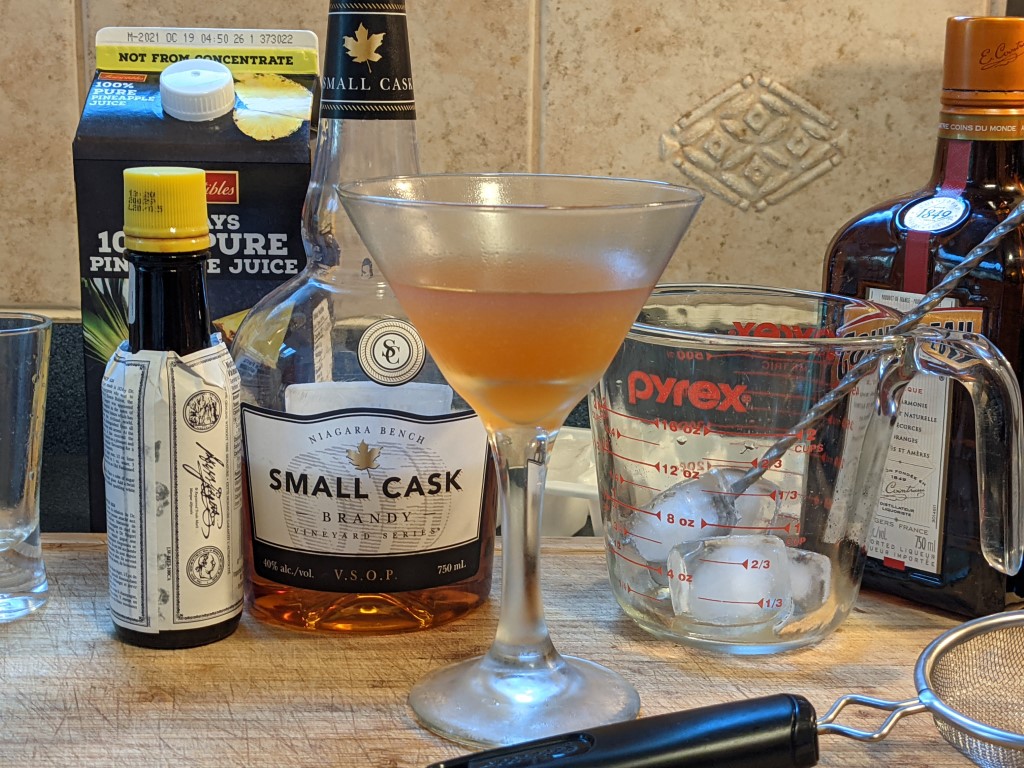 ... tastes like Pineapple and brandy. Which, all things considered, isn't bad. Kind of sweet and boozy. It's nice, but a bit one-note.
Wife approved - which is funny, she was apprehensive about brandy when I bought it, but likes all the brandy drinks I mixed.
Day 8, Drink 2
Another wine crime called an Elderflower Spritz. This calls for sauv blanc but I'm cheating and using a pinot grigio + chardonnay mix.
Build in a glass full of ice:
2 oz white wine
1.5 oz St. Germain
2 oz club soda
Garnish w lime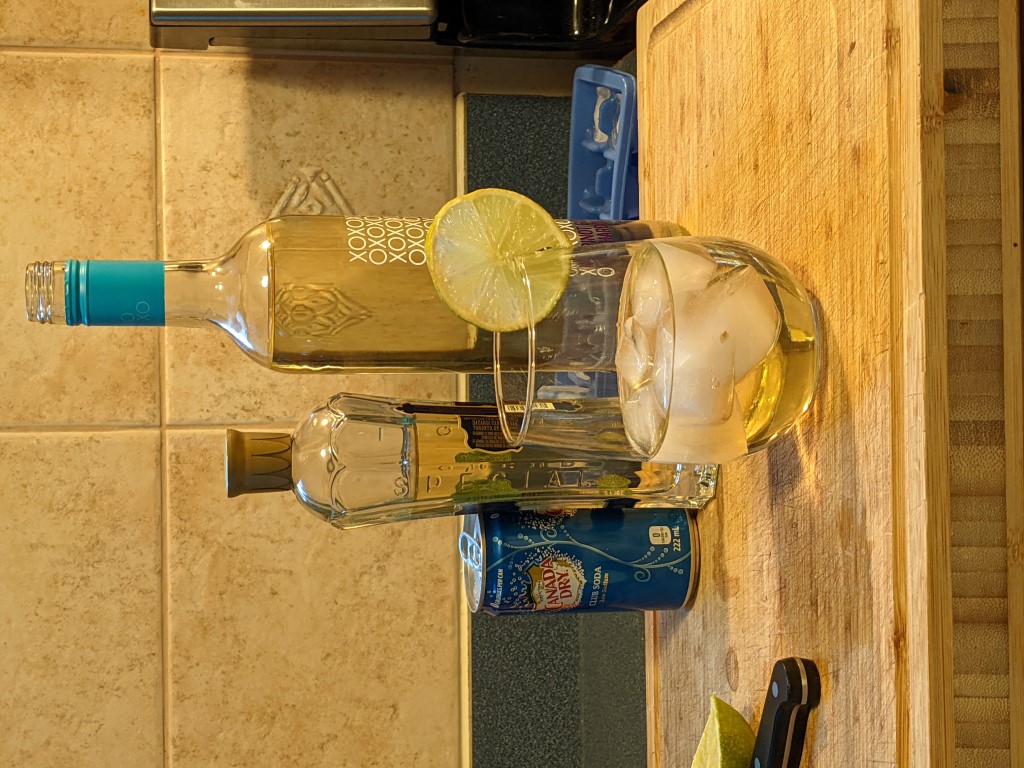 Okay, this is a super simple cocktail but I really liked it. St Germain has a sort of sweet but acidic and floral stonefruity flavor to it - like a gourmet take on sour candy. That's flavors you get naturally in some white wines but turned up to 11. So mixing it with the pinot grigio/chardonnay mix works really well.
The result reminds me of a particularly good Vidal late harvest icewine I once had, but lengthened and fizzy.
Day 9, Drink 1
I didn't get around to taking my morning coffee until after noon today. Which means it's time to spike it.
Now, I don't have cream, or Grand Marnier (orange brandy), but I decided to make a Mexicano coffee anyways, or at least an approximation thereof. Let's call this a Mexicano con Leche.
In a Toddy glass:
1 oz blanco tequila
0.25 oz Cointreau
0.25 oz brandy
2 bar-spoons demerara syrup
Stir...
Top with foamed hot milk, fresh nutmeg, and cocoa powder.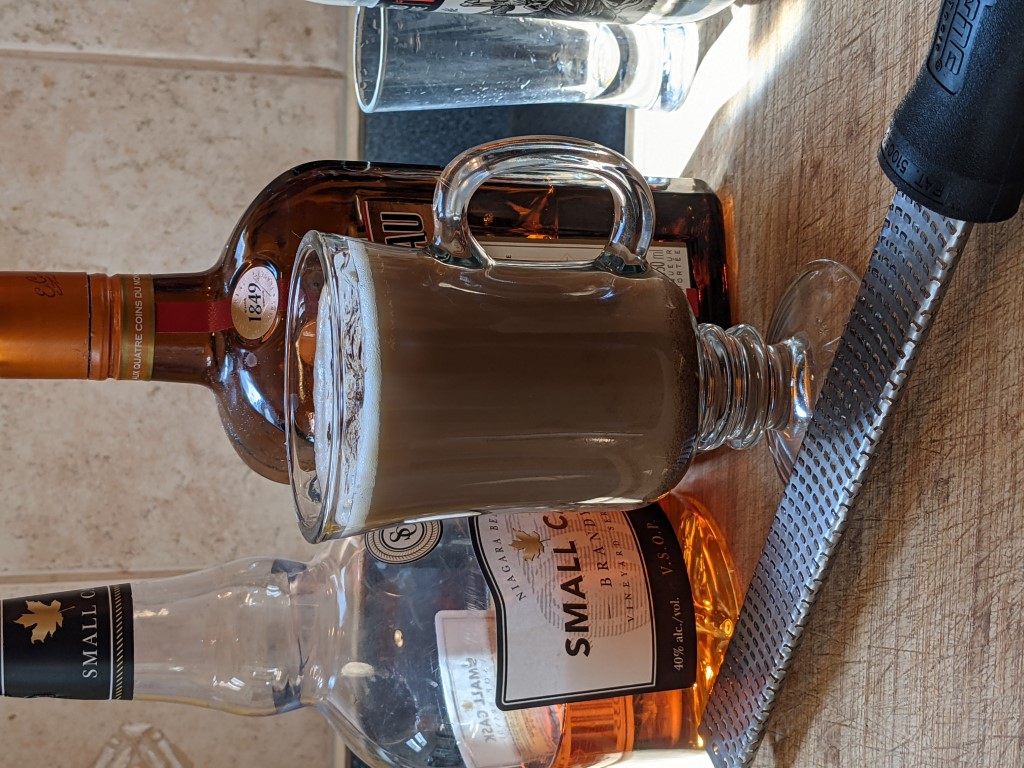 Nice. A bit mild because of the substitutions. First sip is especially nice with the cocoa and nutmeg nose, then you get into it with the coffee with a nice hint of brandy and orange. I wish I still had a reposado, a more flavorful tequila would've been better.
Day 9, Drink 2
The Black Eyed Susan. No, not the 12-bottle-bar Black Eyed Susan I made before, this is the one they currently serve at Preakness Stakes. The cocktail changes drastically over the years, but this is the current standard (except I'm mixing the sour mix from scratch instead of pre-made).
Making it mostly because I picked up some peach schnapps.
In a shaker, add
1 oz vodka
1 oz bourbon
1 oz peach schnapps
2 oz OJ
0.66 oz simple syrup
0.5 oz lemon
0.5 oz lime
Shake with ice, double-strain to an ice-filled glass.
Garnish with cherry and orange.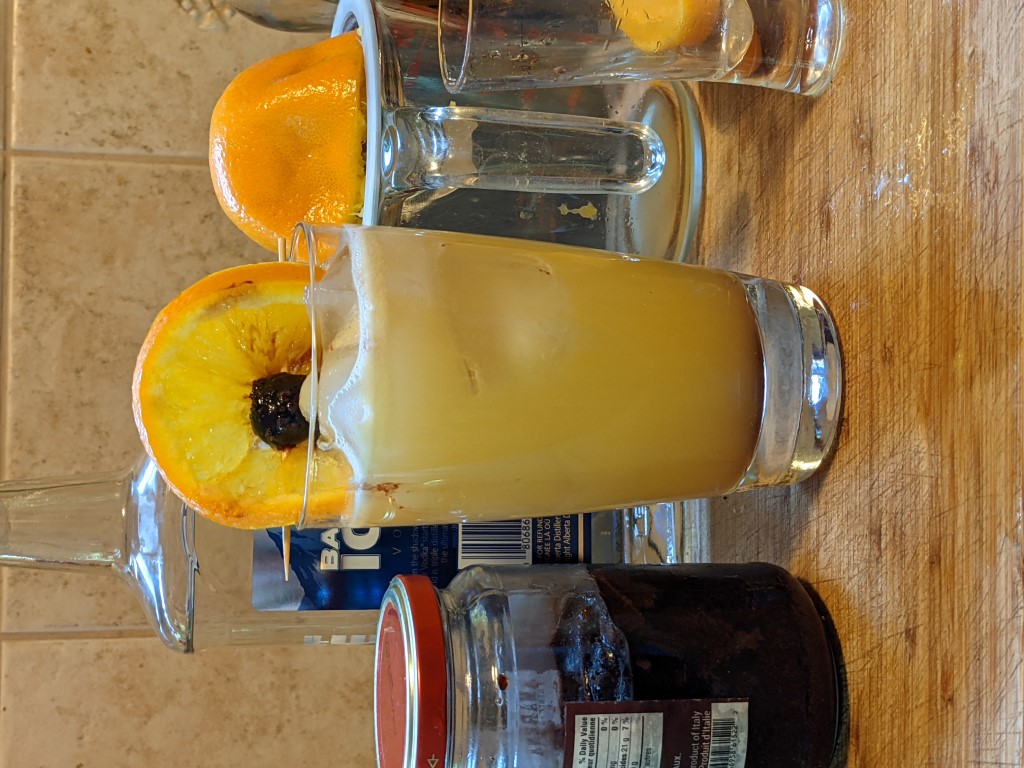 ... it's sweet. And peachy. And sweet. And boozy. The boozy flavor works with it but yeah it's really sweet. Probably wouldn't hurt to cut back the syrup - I was trying to approximate 2 oz sour mix with the sugar and lemon and lime.
Easy to drink and can get you in trouble.
Day 9, Drink 3
Okay, I gave wifey the Black Eyed Susan.
I made myself Erick Castro's "Kentucky Buck", which is a nice summer ginger drink. Although I don't have ginger syrup so I'm going to follow a redditor's version and use Ginger Beer instead of ginger syrup and club soda.
In a shaker:
1 strawberry
2 dashes angostura
0.5 oz simple
0.75 oz lemon
2 oz bourbon
Shake with ice, then add
Then double-strain to a Collins glass full of ice. Garnish with lemon.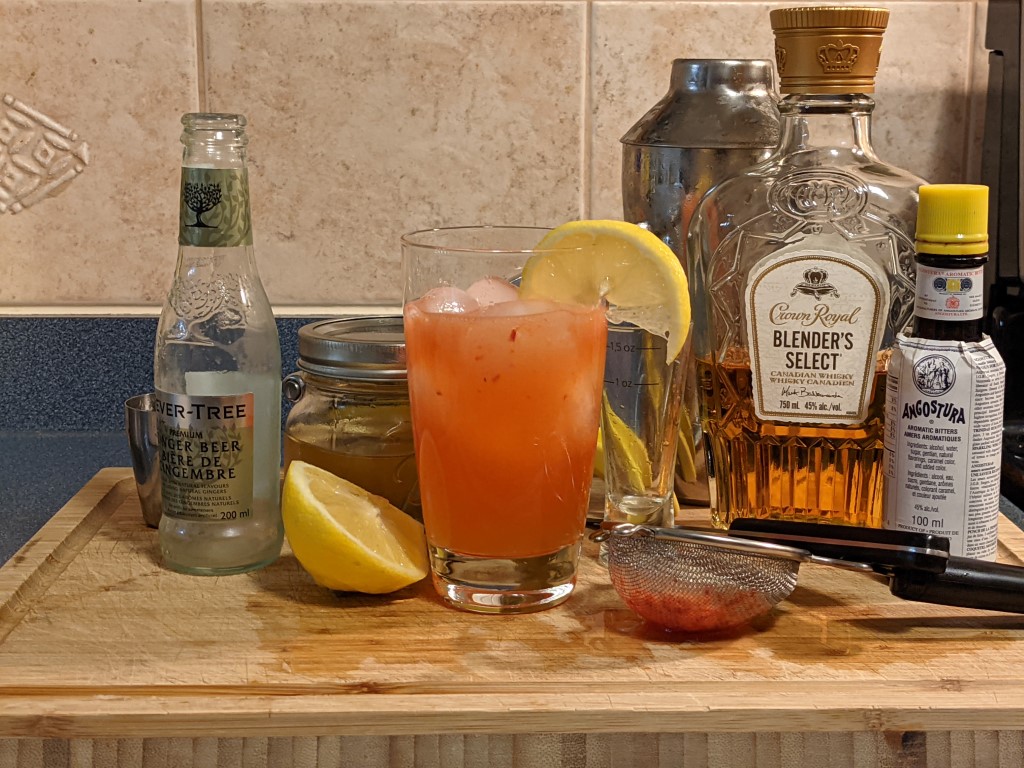 It didn't need the simple syrup, the ginger beer brings enough sweetness. I think the simple came from the Reddit substitution, though.
The lemon subdues the ginger beer a bit so it doesn't bite as much. Very refreshing. The strawberry is a bit too subtle, but I wouldn't want a second berry in there for the strainer. I like how the bourbon flavors aren't lost... they still come through nicely.
All in all I'm not sure who this is for. I prefer the Dark n Stormy, but you have to really love ginger beer for that... But if you don't love ginger beer I'm not sure this will do it for you either. I just feel like the rum funk goes better with ginger beer flavors than bourbon and lemon.
Day 10, Drink 1
I have a bottle of Rumchata for coffee, and googled a random cocktail to mix with it.
https://mantitlement.com/rumchata-double-chocolate-aperitif
Okay, "RumChata Double Chocolate Aperitif will be the only thing your guests will want after dinner"... already a great start 🤨.
In a shaker, mix:
1.5 oz Rumchata
1 oz 360 double chocolate vodka
0.5 oz chocolate
0.5 Kahlua
Rim a glass with chocolate sauce.
Mix with ice in the shaker (don't shake? I'll just use a mixing glass then). Strain to glass.
Garnish w mint and cherry.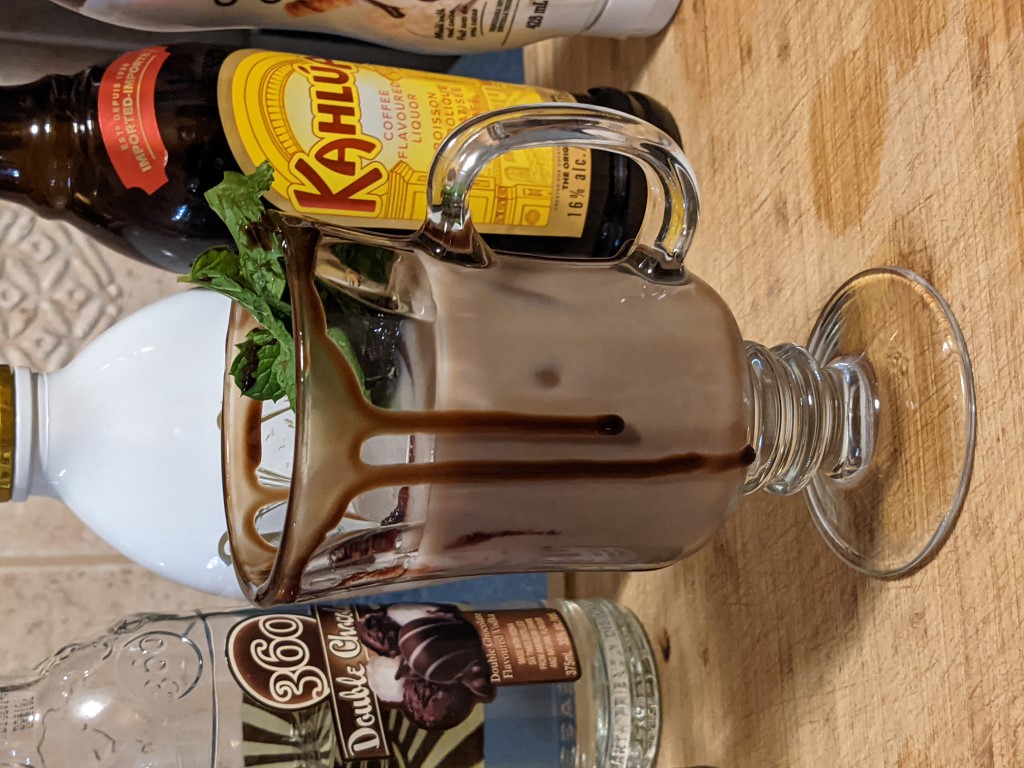 Wowww too sweet. It's basically a liquified slice of coffee cake. Which, if that's what you're into have at it. I added ice to chill it and lengthen it a bit.
I'd garnish it with one of those skinny sandwich biscuits or a cake-pop or something instead of mint. Dunk!
Day 10, Drink 2
Mr Bali Hai. A nice tiki drink with a coffee twist.
1.5 oz Jamaican-style rum
1 oz light rum
0.75 oz kahlua
1.5 oz pineapple juice
1 oz lemon juice
0.25 oz simple syrup
Shake w ice, double strain to a glass of crushed ice.
Okay, I cheated, I didn't use crushed ice, just regular ice cubes. It was late and I didn't want to make noise crushing ice.
Garnish with mint.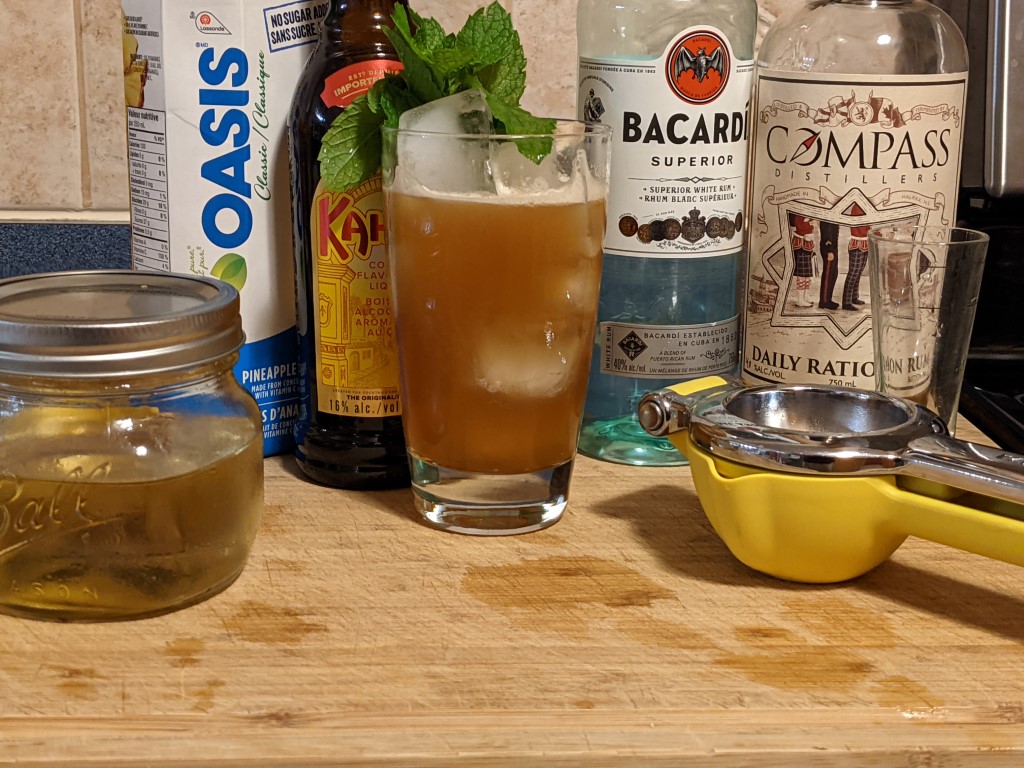 This is a good one. Interesting drink with a surprising mix of fruit and coffee flavors. It's such a strange fusion that my wife started thinking "caramel?" from the color. Approachable, surprising, and fun.
A bit sweet - enthusiasts recommend Mr Black over Kahlua for that. Definitely doesn't need the syrup.
And with that, I'm done another 14 drinks, this time in only 10 days.
Final Thoughts
I feel silly writing this almost two years later, but life happens. Since this project I got the unfortunate talking-to from my doctor about blood sugar - diabetes sucks. So cocktails are now a once-a-week treat for me, and often involve diet sodas. Maybe someday I'll put together an article of my favorite "diet" cocktails. Yes, I know alcohol gets metabolized into sugar, so yeah still gotta go easy on it.
Of the cocktails I made in this sprint, the one that sticks in my memory is the Follow That Black Rabbit. That drink was a journey. But reading my old notes and the Elderflower Spritz is definitely coming back to me as a good one.
comments powered by

Disqus